August's Life Balance Series: Effective Delegation: Empowering Others & Maximizing Your Time
Friday, August 20, 2021
,
8:00 AM
-
9:00 AM PDT
Category: Life Balance Series
---
Effective Delegation: Empowering Others & Maximizing Your Time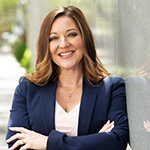 Speaker: Amy Rainwater Pechacek

Corporate leadership trainer, Amy Rainwater Pechacek, will discuss the importance of delegation and address the following:
Barriers to Delegation – reasons many people choose not to delegate tasks, we identify our own barriers to delegation, and we address these "barriers" with rebuttals.
Benefits of Delegation – benefits for the delegator, the delegatee, the organization, and the customers/clients.
Tools for Effective Delegation – steps for effective delegation, specific things to consider, and the importance of training and follow-up.
Time: August 20, 2021 08:00 AM Pacific Time (US and Canada)
---