Member Highlight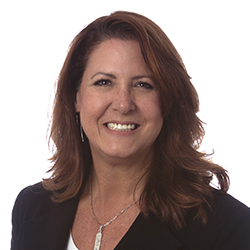 "I attended the 2018 WE Conference in San Diego. Working in a male-dominated industry offers few opportunities for women to connect, so I went to discover what WE was all about. I was amazed by the brilliant, talented women who attended and presented at the conference. The organization allows opportunities to connect, collaborate, and celebrate women as professionals and individuals. I returned home from the conference energized."
Susan Leager: Director of Distribution, Control Sales
What have you accomplished in your career they are proud of? What have you learned from this experience as a key takeaway?

I entered the Electronics Industry in my mid 20's.  I was a single mother looking for an administrative position that would allow me to work regular hours and support my children and me. What I found was an industry with endless possibilities. I took on projects, utilized self-guided training opportunities, and volunteered for leadership activities. I became a go-to person in operations. I then moved to sales and again worked my way to a higher level of leadership.  I have continued to build on that original framework always looking forward to the next opportunity to grow.
 
Those first few years in the industry taught me that I could accomplish anything if I set my mind to it.  I learned how to work with others, create relationships, and work honestly, with a high standard of ethics to build relationships and create success for myself, my colleagues, and my customers. That momentum has not stopped, it continues today.
 
If you could pick your ultimate dream job, what would it be?

It sounds frivolous, but my ultimate dream job would be a house sitter for the wealthy.  I would be available to work anywhere in the world.  I could spend months at a time exploring new locations and satisfy my love of travel. I could become a 'temporary' local and experience different cultures and languages. I would have access to gourmet kitchens that would provide endless hours of culinary creation. The pursuit of online education would fill open hours.  I could work when I wanted, experience the best that life has to offer, and not be hounded or judged by the media because I am not famous.
 
What story can you tell about overcoming a major obstacle in life personally or professionally to turn it into a positive?

This question brings up a lot of emotion. I overcame a major personal obstacle recently.  I was in a long-term relationship that started well but caused a decline in my personal and professional life in the later years.  It took a lot of courage, but at age 51, I pressed the reset button on my life.

In a period of two short months, I moved, started a new job, and reunited with friends and family that I had neglected.  Two and a half years later, I am thriving at work and home.  I wake every morning feeling blessed and ready to tackle the day.  I have so many beautiful people to be thankful for.  I would not be the person I am today without their love and support.
 
Why did you agree to lead a chapter and what value have you seen delivered thus far as part of delivering the WE propositions in our quest to fulfill WE's mission?

I attended the 2018 WE Conference in San Diego. Working in a male-dominated industry offers few opportunities for women to connect, so I went to discover what WE was all about.   I was amazed by the brilliant, talented women who attended and presented at the conference.  The organization allows opportunities to connect, collaborate, and celebrate women as professionals and individuals. I returned home from the conference energized.  

I understood the best way to keep the momentum flowing was to help with chapter formation in Wisconsin and Illinois.  Co-Chairing the local chapters is a beautiful experience.   Members benefit from monthly training that provides tools and resources for personal and professional growth. There is opportunity to gather each quarter and inspire, network, and celebrate each other.  Most recently, many members have expressed interest in starting community and education outreach programs.  

We are looking forward to exploring opportunities to help our local communities and educate women about the exciting opportunities available in the Electronics Industry.

WE is here to EMPOWER, DEVELOP, ADVOCATE, and CELEBRATE women.