WE Story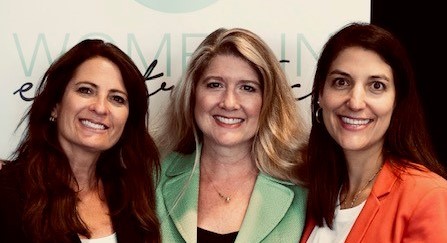 Jackie Mattox         Monica Highfill      Amy Keller

Together WE Rise
Women in Electronics (WE) was formed by a group of 20 women in the electronics industry during its inaugural conference in the fall of 2017. WE was the brainchild of Jackie Mattox, who soon brought in Monica Highfill (then with KEMET Electronics) and Amy Keller, Abracon, (then Arrow Electronics) to build the organization with the premise of women working collaboratively to find inspiration, strength, and empowerment through a sense of community.

Eye-opening industry statistics provided a solid foundation for what would soon become our driving force. Studies of organizations that implemented practices to achieve gender parity demonstrate a 19% bump in profitability. However, in the electronics/high tech industry, change in gender parity within leadership ranks has been slow. The WE solution would provide an opportunity to focus on the unique career development needs for women in our industry. Jackie, Monica and Amy began conducting regular brainstorming meetings to establish the WE organization. Today, they sit on the Board of Directors and also comprise the organization's Executive Committee. 

"Men and women have different attitudes and requirements for success in their professional lives," says Jackie. "For example, many women do not feel comfortable with the traditional informal mentorship opportunities that men employ. Women tend to feel more comfortable in a formal program, whereas more men are at ease with asking for guidance in less formal ways. We wanted to create mentorship and training programs that help women overcome their fears and increase confidence in their personal and professional lives."

The WE Mentorship Program soon became a flagship offering supporting the needs of women in the industry. Virtual leadership and development trainings, local chapter meetings, annual conferences, and a one-of-a-kind radio program of both male and female industry leaders are just a few of the offerings provided to members today to support their continued development.  

We look forward to welcoming you into the WE community!


Jackie Mattox
Founder/President

Amy M. Keller
Executive Director

Monica L. Highfill
Executive Director