WE Weekly Newsletters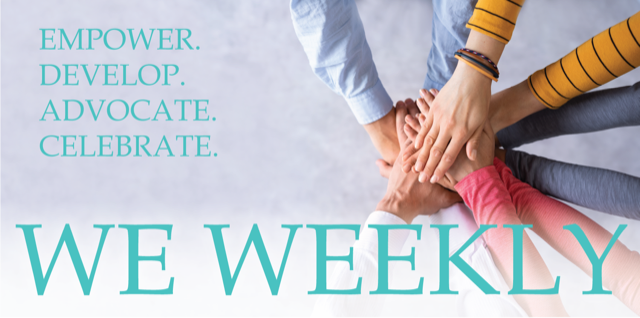 This Week's Issue
Capitalize on this unique upcoming networking opportunity to build your ecosystem at the Women in Electronics Annual Leadership Conference! Programs like WE are critical to prepare for the future. Whether it's a promotion, a career change, or an unexpected life circumstance, being in the game with your development provides the proactive measures necessary to build and maintain confidence in ever-changing times. ACCESS ARTICLE HERE.
Join our membership community and receive the member discounted conference rate.
This year's theme, Growing Forward - Listen, Learn, Lead, will take us on a transformational leadership journey! The agenda is strategically curated with topics that build upon each other, from engaging keynote sessions addressing critical and relevant modern day leadership topics, to personal branding & executive presence, to "roll up your sleeves" development workshops. Our attendees will leave with an expanded industry network and key conference take-aways to bring back to the team.
WE is a 501c3 social impact organization dedicated to opening the opportunities for women in the Electronics Industry and related End User Markets. We ensure inclusivity for anyone who would like to be a part of our mission. We rely on the investment of our sponsorship partners to bring essential programming to those who may not otherwise have access and appreciate your participation and engagement in our efforts.
To learn more about the WE mission and programs, please visit our website HERE.
WE Conference Keynote Speaker
Come to the WE 6th Annual Leadership Conference to hear from Author, Speaker, and Executive Coach, Jeff Henderson, as he talks to us about what we are here FOR.
 A Tribute to Cindy Weir for a Career Well Done!
WE celebrates and congratulates Founding Advisory Board Member, Cindy Weir, on an outstanding career!
For an audio only version, download the WE Podcast wherever you listen to your podcasts or access all WE podcasts HERE.
CLICK HERE to access Cindy's WE Member in Highlight interview.
CLICK HERE to visit this week's job board to see the latest job opportunities from WE Sponsors: TTI, Littelfuse, Newark and Flex .
CLICK HERE to view entry level positions from Flex and TTI.
It's not too late! Join us for the Chapter Meeting tomorrow, June 22 at 8am PT/11am ET.
Don't miss this Thursday, June 23 at 9am PT as Kerry Turner provides us with real life guidelines for taking care of your emotional health and noticing warning signs in others.
Want to learn more about Kerry?
Are you interested in being a part of our volunteer team? This is an excellent way to network and develop relationships across the channel. ACCESS OPPORTUNITIES HERE
WE Weekly Newsletter Archives